The baby is here! Go to the homepage to see details...
As you may know, our first child is a boy (The Thibodeau seed is indeed strong...) and is due to be born on Christmas Day, 2003. Virginia and I are getting very excited as her belly continues to grow bigger by the day. So far, the kid is very active. He's always moving around and constantly kicking - a good sign that he's going to be a pro soccer player someday. Other than a severely sore back, the soon-to-be mommy reports no problems.
Here's a few pictures of us preparing for the little guy...
Virginia at 3 months. Not much to see here:


4 months. Some steady growth, but still not very big: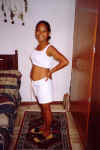 5 months. Suddenly, she got very big very quickly:

Here she is at just about 6 months.

6 months. Getting bigger everyday!


7 Months. Compare these to the first 2 pictures. Wow. I'm getting very excited...


8 Months - the homestretch! Virginia's belly can't get much bigger, as there's just no room. Still a lot of movement, and occasional poking and prodding.



We're planning on having the baby at the "ospedale" in Soave, which is a beautiful little wine town just outside Verona. Many Americans have their babies here and rave about it. We recently took a tour and came away very impressed. Here's a picture of Soave, as seen from the hospital parking lot:

Our first baby gifts, given to us by our friends Denise and Theresa who live in Venice:

And our first baby purchase - a baby bomber jacket!

The soon-to-be papa struggling with the baby swing. It got a little hairy there for a bit...


...But eventually my superior intellect triumphed and I got it put together. However, I'm not looking forward to the changing table, the stroller, the crib...YIKES!

We bought a stroller the other day. It was fun putting that one together, because I got to push it all around the house afterwards! It's a nice one too - a Graco model that also becomes a car seat and a baby carrier. Here are some pics:
Well, the crib arrived today. And let me tell you, it kicked my ass! The screws just didn't seem to want to fit where the instructions said they would. But with a little elbow grease and a bottle of Tocai rosso by my side, I got the thing put together...
In addition, we also have a beautiful little bassinet, which doesn't belong to us, but my friend Matt Cohen and his wife are being gracious and letting us use it (Thanks Mattie!). If we have another baby eventually, we'll have to buy one I guess, but this is a nice one...

And now, the "coup de grace", as it were: we bought a couple of prints that I think add the perfect touch to the baby's room and had them framed. They came out beautifully, and they do indeed fit in perfectly, what with this being Italy and all. Art lovers will recognize the first one as one of Rapheal's famous angel themed paintings, and the second one taken from the Sistine Chapel itself...
OK, so if you're keeping score, here's where we are: We have a ton of clothes, a crib, a stroller, a swing, a globe (the wife's idea), a little teddy bear lamp, a couple of Italian Renaissance angel themed paintings, and a few other little trinkets. We still need the changing table and the 3 drawer chest, which we should get eventually. It's just about time to start setting up the room now, which will probably become Virginia's pet project. Here's a picture of what it looks like right now...

We got the chest a few weeks ago. Here are pics of me struggling (as usual) with it...
We picked up a couple Venetian masks on our last visit to Venice that add a nice local touch to the baby's room:
The baby's room is now finished! We added a few things over the past few weeks that gave it the final touch and it looks great. Here are some pictures of the finished product:


Virginia has also been using her considerable creative talents quite a bit lately to make stuff for the baby. Here is one of my favorites:

There will be other little additions to be sure as the baby gets closer, so be sure to check in occasionally! We're down to less than a month...