About 45 minutes north of Vicenza, in the foothills of the Alps, there's a little town called Arsiero. Winding through the town is a little alpine river that is barely 10 feet wide, but runs so deep in some places that people actually scuba dive in it to explore the underwater caves. Surrounding the river for much of its length are very high cliffs on either side. My first summer here, my buddy Mike Rayfield took me there to introduce me to the fine art of "cliff jumping". You find a nice high spot and jump off into the river. It's a little scary sometimes, and can be a little nerve racking as well, but it's very safe and a tremendous adrenaline rush. The true test of one's manhood however, is the bridge which spans the river at one point, which is so high that few are brave enough to attempt it. I myself have done it several times, and let me tell you, it is very intimidating. But it's also extremely fun. I've taken a few friends there, and they've all said it's oneof the coolest things they've ever done. Here are some pictures...

Are you feelin' froggy?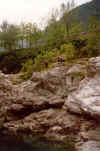 Then jump!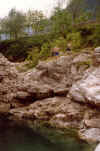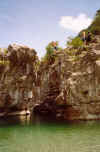 "The Bridge of Death"
1.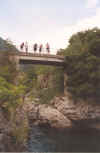 2.

3.