If you know me, you know how much of a soccer freak I am. Soccer, football, futbol, calcio, fussball, whatever you call it, I'm very passionate about it. To that end, I recently had an opportunity to attend the European Soccer Championships, which were held in sunny Portugal.
My friend Dave Broussard from back home is equally passionate about the international game, and made the journey across the pond to join me. Another friend of mine, Paul "the Gooj" Gujral, who lives in Germany was the hero who was able to secure 4 tickets for us. We chose "Follow Your Team" tickets for Italy, which means that we had tickets to every match Italy played. If they had made it all the way to the final, we would have had tickets. Of course, we probably would have sold them for a hefty profit, but it was not be...
Of course, I'm all about road trips, especially in Europe. And I had never been to Spain or Portugal, so I was filled with the anticipation that always comes when I have the opportunity to experience a new country and its culture. Portugal of course, is known for several things - most notably, the Port wine, seafood, and beaches. It promised to be a great time. Combine that with the fact that we were participating on what some people consider an even better tournament than the World Cup, and you can imagine how excited we were. As it turned out, the road trip and the sightseeing in Portugal surpassed the actual tournament for enjoyment.
So Dave and I, along with The Gooj and his 12 year old son Stuart, departed Vicenza in Paul's minivan on what promised to be a long and arduous road trip. Here is our story...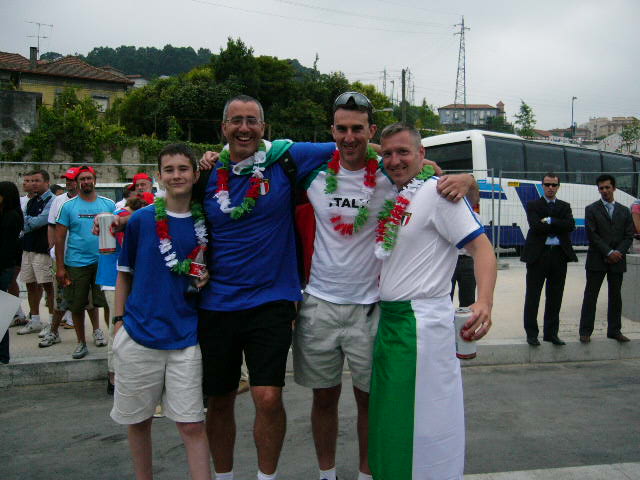 The first leg of the journey took us through Italy, into France at the French Riviera, right by Monaco, Nice, then up towards Toulouse. It was getting late, so we stopped in the French city of Bayonne right on the Spain border to watch the Spain-Russia match. While there we received the first of many surprises in Euro 2004 - Greece had upset Portugal in the first match of the tournament. Portugal was the host and one of the favorites, while Greece was not even supposed to score a goal in the tournament. It was quite a shock. We left after the match (Spain won) and drove for a couple more hours, then stopped in a rest area somewhere in Spain and slept for a few hours in the van. The next morning, we awoke and continued on towards Portugal, arriving sometime around mid-morning. The arrival:



Here's the first of Portugal which greeted us as we crossed the border at Villar Formosa:

We finally arrived at our destination - a small little beach community called Pedra d'Ouro on the coast just north of Nazare. It was gorgeous. And pretty cheap too. The beach was fantastic too. It was huge and expansive, and very rarely had more than a dozen other people on it. Many days, we had the entire beach all to ourselves. Here are some shots of the beach:
Pedra d'Ouro was a cute little resort town. There wasn't much there except a bunch of beach houses, but they did have a couple amenities that made it much more enjoyable such as a nice seafood restaurant, a couple small bars, and a little market. Of course, the best thing was the hotel. They had a bar upstairs that we would frequent to watch many of the matches that we didn't have tickets to, and a nice restaurant downstairs that featured some damn good seafood. And the beer was ridiculously cheap - a bottle of the local beer (Sagres or Super Bock) was only 1 euro, and a draft was 75 cents. There were also fans from several countries there which added to the festival atmosphere. The best fans of course were the English fans, who lived up to their reputations by being drunk and lively just about every time we went ("We're havin' a drink! We're havin' a laugh!"). The staff of the hotel was very friendly and welcoming to all of us, and they made things even more enjoyable (most of them spoke a little English, a couple were pretty fluent). They also had an internet connection in the hotel so we were able to check email when we needed it. Here's a picture of one of the supervisors, named Anna. She was an absolute doll:

If you want to see more details about the hotel and the area we were at, here's their website (they have an English Version): www.albergariapedradouro.pt
If I ever have the chance, I'd go back in a second.
On to the matches!
As much as we enjoyed Pedra d'Ouro and the surrounding area, we were of course there for one reason - Euro 2004. Italy were drawn in a tough group which included Sweden, Denmark, and Bulgaria. Only the top 2 teams in each group qualifies for the second round, so I was a little nervous about being drawn with 2 Scandinavian teams. They always seem to raise their level of play for the big tournaments. Euro2004 would prove to be no exception...
ITALY - DENMARK
The first match was against Denmark in the northern city of Guimaraes. Guimaraes is known as the cradle (or birthplace) of Portugal, as it's first king was born there. We found it to be a nice little historic town with a slight medieval feel - complete with a castle. As you can imagine, we were excited to get there for the first match:
The first match against Denmark, we noticed something that would unfortunately become a trend at all of Italy's matches - the Danish fans far outnumbered the Italian fans. I was really looking forward to bathing in the excitement of watching Italy at a major championship with other Italian fans, but alas, I was to be disappointed. Danish fans outnumbered the Italian supporters about 10-1 it seemed. But it didn't matter. It was still a great atmosphere and a lot of fun. Here's some pictures from the Denmark match (yes, I'm holding the Italian flag upside down in the last picture):
The match against Denmark was a lackluster affair for the Azzurri. It ended in a 0-0 tie, which wasn't necessarily bad as ties are worth one point. It seemed perhaps that a tie and a win from their last 2 matches might get them through. But a tough task lie ahead: The Swedes
ITALY - SWEDEN
The Swedes were fresh off a 5-0 drubbing of Bulgaria and came into the game looking like one of the early favorites. They were led by the potent striking combination of Larrsen and Ibrahamovich. The match was in the city of Porto, which we've always wanted to see, so we drove up early and spent the day sight seeing before the match. I found Porto to be magnificent. Very big, very historic, and a spectacular view overlooking the Douro river. Porto, as you may know, is the home of Port wine, which we sampled quite a bit of. It's potent stuff, but very delicious. (You can see more pictures of Porto on the Portugal page in my Travel section if I ever get it updated). Porto itself was awash in a sea of yellow that day as the Swedish fans overtook the city. But we would not be intimidated. I defiantly purchased a huge Italian flag, wrapped it around myself and walked around the city yelling "ITALIA! ITALIA!" and "FORZA AZZURRI!", while many of the other Italian fans joined in (the Port wine may have something to do with that...). The Swedish fans were great though. They're very friendly, and like to have a good time. Here are some pictures from the Sweden match:
The match turned out to be a heartbreaker. Italy played very well most of the match and held a 1-0 lead through most of the second half. They seemed poised for a huge victory which would have put them through for sure, as their last match was against Bulgaria - the whipping boy of the group. But then, the coach, Giovanni Trappatoni inexplicably made some stupid substitutions halfway through the second half. Sure enough, Sweden tied the match a mere 5 minutes from time. 5 minutes. 5 lousy minutes that would prove to be costly. But, Italy could still make it through to the second round. To do it, they had to beat Bulgaria, and as long as Sweden and Denmark didn't tie at least 2-2, the Azzurri would go through. We were very nervous.
(ED NOTE: The funniest line of the whole trip was uttered by Dave at the Sweden match. We were walking around before the match and some blond Swedish women walked by us. We turned to look and Dave goes, "I'm gonna ask one of those Swedish women to come take a chance on me..." It was one of the funniest lines I've ever heard (and if you don't get it, I can't explain it to you).
ITALY - BULGARIA
As I mentioned, Bulgaria were turning into the whipping boy of the group. They were already out of the tournament, and were plying for nothing more than national pride. But sometimes, that's the most dangerous team to be playing. This match was also in Guimaraes and for the first time, the Italian fans weren't outnumbered by the other team's. Of course, Italy and Bulgaria's national flags are both red, white, and green, so it was kind of hard to tell the fans apart sometimes. In keeping with the spirit of Euro 2004, the Bulgarian fans were friendly and enjoying themselves. In fact, most of them were already conceding defeat and were just there to watch their team play and have fun. Little did they know that their team had other ideas. They would not make it easy for Italy. Here are some pictures of the Bulgaria match:
As you can see in the last picture, Bulgaria held a 1-0 lead at halftime. However, the spirit of the Azzurri took over, they played some creative, attacking calcio in the second half and won on a goal in the very last minute of the match. Normally, the place would have been absolutely bonkers when they scored, but unfortunately the word came in a few minutes from the end that the Sweden-Denmark match had ended in a 2-2 tie - the very result that they needed to knock Italy out. Many Italians claimed it was a Scandinavian conspiracy, but the truth was that Italy didn't play well enough in the tournament to go through to the second round. The unthinkable had happened. Italy was out after the first round, and an entire nation mourned. Sadly, we prepared to leave Portugal about a week before we had planned.
The Rest of the Tournament
Seeing Italy get bounced after the first round really put a damper on the tournament for us. However, there was still much to appreciate about Euro 2004, and we had many opportunities to enjoy other matches in different parts of Portugal, usually with the local fans. Here are some highlights:
This is Dragao Stadium in Porto where Italy played Sweden. It's a brand new stadium and was the finest soccer only stadium I've ever been in.

One of the biggest surprises in a tournament full of them was Latvia. The fact that they even qualified was a shocker, but they ended up proving they belonged by going up on the Czech Republic early, and giving Germany and the Netherlands all they could handle. Here are a few of their fans we ran into:

One of the highlights of the tournament for Dave and I was the opportunity to go to Coimbra for the England-Switzerland match. It wasn't a real important match, but tickets were going for 400 euros a piece. Needless to say, we weren't going to pay that, so we just walked around enjoying the city and soaking in the atmosphere, which was chaotic to say the least. The England fans were the best part of the tournament for me personally. Here are some pictures from the England-Switzerland match in Coimbra:
A group of proud but outnumbered Swiss fans walk right through the England fans wearing cheeseheads and ringing cowbells. They were nothing if not brave:

For some reason, Italy have a lot of fans in Asia. Many of them could be seen at their matches:

These were some Italy fans from Hong Kong that I met - my wife is from Hong Kong, so I called her from the stadium and she chatted with a few of them:

Walking through downtown Coimbra, and I run into a local Portuguese guy wearing a New Englan Patriots shirt!

The Spain fans gearing up for the showdown with Portugal in Lisbon:

And the Portuguese fans cheering during the match:

This was a funny moment - some German fans were driving a bit too fast around a sharp curve near our place and flipped their car over. They learned the hard way that this wasn't the autobahn...

Watching the Greece-Spain match at a little outdoor cafe in Leiria, enjoying an ice cold Carlsberg:

We watched the Portugal-Russia match in the town square of Leiria. It was absolutely packed with Portuguese fans and they were going nuts as Portugal pulled out a must-win victory:
The last (and biggest) shocker of the tournament turned out to be the same as the first shocker - Greece beats host Portugal in the final to become European champions for the first time. Many consider it to be the biggest upset in Euro championship history and I have to agree. The only other one that comes close was 1992 when Denmark - who didn't even qualify for the tournament - beat Germany in the final to win it all.
All in all, it was the strangest tournament I've ever watched. But, that's the way the world game is going. Many of the smaller countries are getting better, while the "traditional powers" seem to care more about their paychecks than representing their country. Sad but true. But it was still an enjoyable time, and one of the best road trips I've ever taken.
Next up: World Cup 2006 or bust!