On October 26th, 2002, I married the former Virginia Rocapor Emocling. As you may recall from the last website update, Virginia is originally from the Philippines, however, she'd been living in Hong Kong for 10 years when I met her. I've always wanted to marry a "classic beauty", and I certainly found it in her. But more than that, I got lucky, because she's such an amazing person. Everyday she does something that just amazes me and further convinces me that I found the right girl.
The wedding story is pretty amazing. I won't get into it here, but if you know me, ask me and I'll be glad to tell you alllll about it. As far as the wedding itself, my brother Eric was the best man and my sister Tracy was the Matron of Honor. Virginia designed her own dress, which received innumerable compliments. She had a dress shop in Hong Kong make it based on the design she gave them. They had it hanging in the shop and several people came in and actually asked how much it cost because they wanted it. The owner told them that it was not hers to sell. One lady actually offered to pay twice the cost - when the owner said she couldn't, the lady offered almost three times the price! So Virginia's wedding gown was truly one of a kind, and rest assured that someday our daughter will wear it and it will be passed down our family tree and hopefully all the future Thibodeau women will wear it.
Without further ado, here are the wedding pics...
Here's a couple of my best friends, Mike and Jen Buczynski at the wedding rehearsal:

The next couple pics are from the rehearsal dinner at Martha's Exchange in Nashua...


Here's how I spent my last hour as a free man...Dunkin Donuts large regular with 2 sugars:

The Bridal Party: Virginia, Tracy, Mom & Briana:

The lovely bride: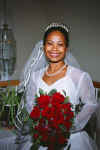 My brother in law Jim played the bagpipes outside the church to welcome our guests:

We were married by Pastor Steve from my mom's church. (Steve played football at Stanford. As a Notre Dame fan, this caused quite a conundrum for me. But in the end, I decided that it was ok, since ND did steal Ty Willingham from them...)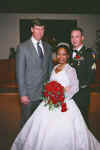 Here's the happy couple, married at last: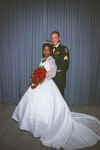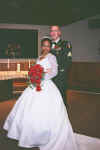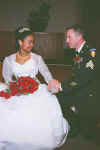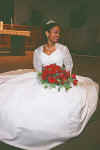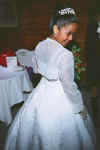 Cutting the cake: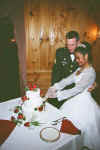 The First Dance:

Brianna enjoying some bubbly: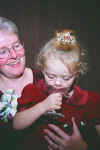 Tracy (Matron of Honor) & Jim (Bagpiper):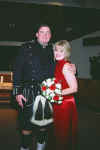 Virginia, me, mom & dad: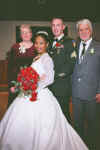 Rik & Mom:

Dad & Virginia: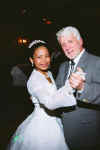 Rik & Virginia with Dad & Nancy: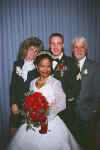 The Thibodeau family with the newest member: